CAMPSITE FOR YOUNG PEOPLE IN THE BASQUE COUNTRY
Berrua is a 4 star campsite in the Basque Country, between Biarritz and Saint-Jean-de-Luz. Its location, its infrastructures and its animation teams make it an ideal place for vacations between young people.
Happy teenagers
It is not by chance that teenagers ask their parents to return to Berrua: this campsite in the Basque Country offers everything that young people can dream of: water park, entertainment, playgrounds, lively evenings, multi-sports fields, etc. A club managed by an animation team also allows teenagers to expend their energy by participating in various sports activities.
Vacations
among young people
Ideal campsite for young people
Young adults also enjoy Berrua, and for good reason: it's a great value for the money. Young people can set up their tents and stay in small groups to enjoy all the benefits of the site. There are free bathrooms, barbecues and other facilities, and they can order pizza from the camp's pizzeria and possibly buy what they need from the grocery store.
Want to go to the beach? A free shuttle bus is available to holidaymakers in July and August. This allows both to save money and to reduce the ecological impact of coming and going.
On site, young adults like to try their hand at Basque pelota, enjoy the themed evenings organized by the 4-star Pays Basque campsite and above all participate in the many tournaments led by the entertainment teams.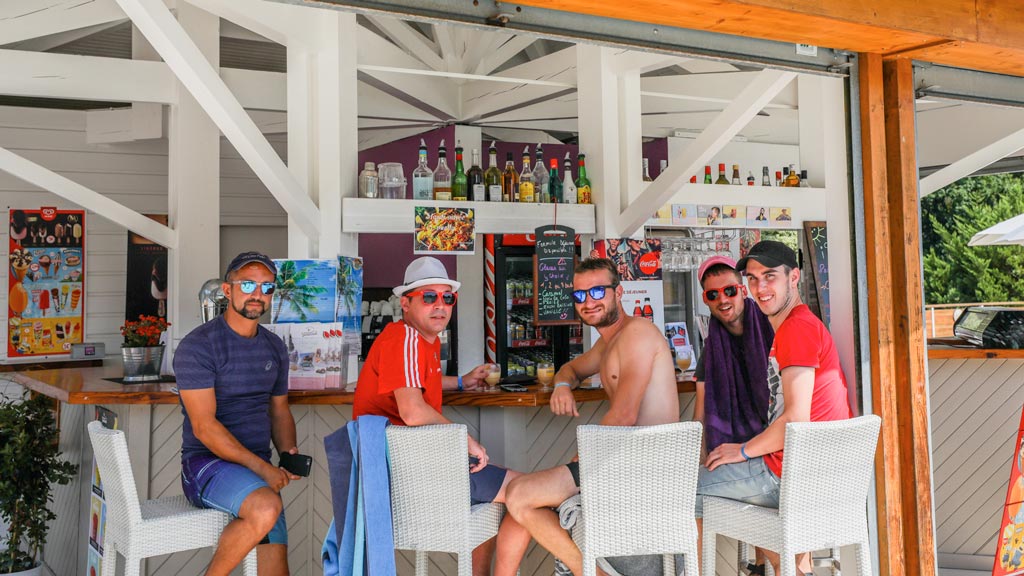 Outdoor activities in the Basque Country
If young people appreciate the Basque Country so much, it is because the department is full of exceptional sites that offer a multitude of opportunities. The surf school, for example, welcomes those who wish to try surfing: they can tease the waves of the Atlantic Ocean and be seduced by this exciting sport.
The less adventurous but equally curious will no doubt enjoy paddle boarding, while some will opt for quad biking or jet skiing. At the youth campground, they can also play pelota or go hiking.

Lively towns in the Basque Country
The people of the South West know how to have fun and the numerous popular festivals prove it. The famous festivals of Bayonne or the ham fair enliven the city every year. Every year, the towns of the Basque coast seem to be on fire because they are so lively. Young people particularly appreciate these friendly and often exotic events. Biarritz, Saint-Jean-de-Luz, Bayonne… the mere mention of these cities inspires happiness, festivity and joie de vivre!
Going on vacation in the Basque Country means taking advantage of the beaches, the hinterland, the towns and their numerous activities, but also the place of accommodation chosen. Opting for Berrua, a campsite in the Basque Country, means choosing a friendly, practical and inexpensive place to stay while maintaining a 4-star campsite status.
Youth events in the Basque Country
From the campsite for young people, many events and manifestations will feed their stay in the Basque Country:
The Baleapop of Saint Jean de Luz
The festivals of Pamplona
The music festival in Biarritz
The Wheels and Waves festival in Biarritz
The axoa festival in Espelette
The Herri Urrats festival in Saint-Pée-sur-Nivelle
A campsite for families, couples and seniors