MOBILE HOME RENTAL BASQUE COUNTRY
Sunêlia Prestige Riviera 4/6 pers – 2 ch
Discover
Sunêlia SunLuxe 2ch
Discover
Sunêlia Confort Club 5/6 pers – 2 ch
Discover
Sunêlia Confort Natura 2/4 pers – 2ch
Discover
Sunêlia Chalet Prestige 4/6 pers- 2ch
Discover
Sunêlia Confort Loggia 4/6 pers- 2ch
Discover
Sunêlia Confort Life 4 pers – 2ch
Discover
Sunêlia SunLuxe 3ch
Discover
Sunêlia Coco Sweet 2/4 pers- 2 ch
Discover
Sunêlia Confort Happy T 6/7 pers – 3ch
Discover
Sunêlia Luxe Key West 6 pers – 3 ch
Discover
Sunêlia Prestige Lounge 6/8 pers – 3ch
Discover
Sunêlia Confort Fun 6/7 pers -3Ch
Discover
Sunêlia Prestige Living 5/6 pers – 2 ch
Discover
Mobile homes and chalets to rent in the Basque Country
The town of Bidart, near the charming town of Biarritz, is a sunny destination not to be missed in the Basque Country. It is surrounded by beautiful nature and offers a multitude of leisure activities and discoveries to holidaymakers. For an exceptional camping holiday in Bidart in the Basque Country, discover the prestigious Sunêlia Berrua campsite, an open-air hotel nestled in a magnificent estate, in the heart of a little corner of paradise. Its flowery and friendly setting will inspire you to relax and escape during your stay.
Sunêlia Berrua offers a wide range of comfortable rental accommodation for your holidays in the Basque Country. You can choose between mobile homes, bungalows and spacious chalets equipped with everything you need!
Accommodation for rent in the Atlantic Pyrenees
Renting a mobile home in the Basque Country or a chalet is an ideal solution for visiting the region in the best possible comfort. In fully equipped rental accommodation, take advantage of all the services and leisure facilities of the Berrua campsite, which enjoys a privileged location between the ocean, the Spanish border, the Pyrenees, typical villages and the highlights of Basque culture such as Bayonne and Biarritz.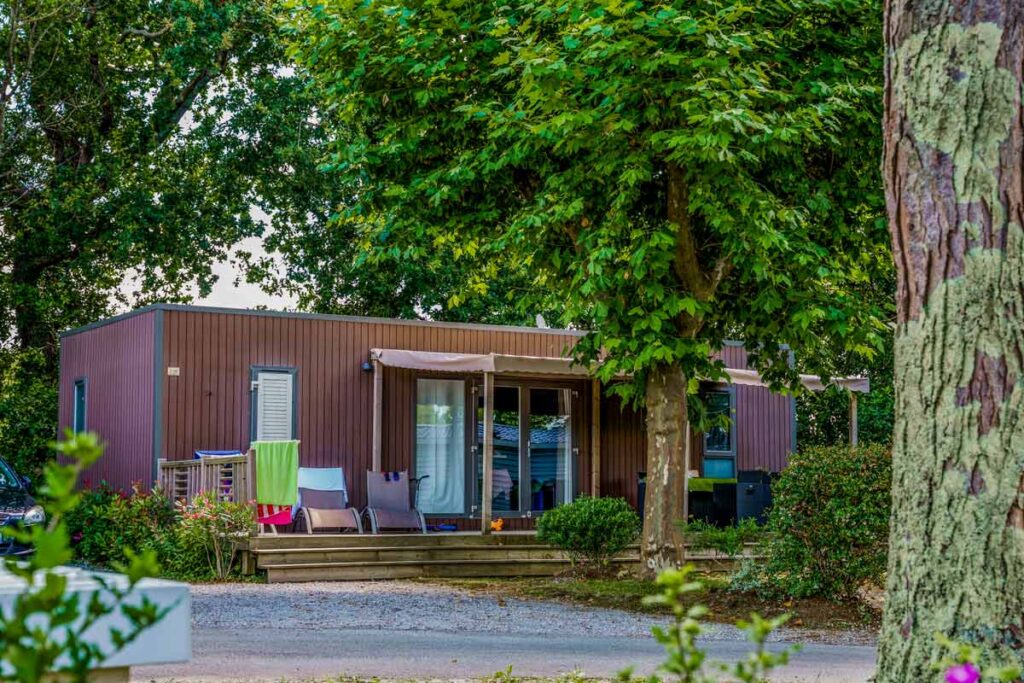 Rent mobile home from 16 to 40m2 in Bidart
Ideally located in Bidart, a typical village on the Basque coast and a renowned seaside resort, the Berrua campsite offers a wide range of mobile home rentals in the Basque Country, with different capacities.
Bungalows, chalets, mobile homes and canvas tents can satisfy all tastes and requirements. All of them have a common feature: their architecture and decoration are carefully designed and inspired by the region: they promise you a relaxing and refreshing stay in the Basque Country.
Intimate Coco Sweet bungalows, luxury mobile homes with futuristic architecture, or Basque chalets with red shutters await you between the sea and the mountains, on the wooded site of Berrua.
Offering pleasant living areas from 16 to 40 m2, our chalets and mobile homes are suitable for all holidaymakers: intimate bungalows for couples, spacious rentals for families, or prestigious mobile homes with 2 or 3 bedrooms to accommodate groups of friends and large families in the greatest comfort.
With or without sanitary facilities, we offer a wide range of accommodation to suit all budgets, including canvas bungalows, which are an ideal compromise between the charm of cheap camping in the Basque Country and the everyday comfort of holiday accommodation.

Private terraces
Enjoy a comfortable holiday in the Basque Country
A great advantage for your holidays between Saint-Jean-de-Luz and Biarritz, all our mobile homes and our canvas and wooden rental accommodation are equipped with their own private terrace: additional square metres that offer you more than appreciable comfort and ease on a daily basis.
On our grassy plots, the wooden terraces of the rental properties are real outdoor living spaces.
They allow you to have your meals outside, from breakfast to dinner if you wish.
Depending on the accommodation, they are covered, semi-covered or equipped with parasols. You can rest during the day, enjoy the south-western sun or relax in the evening. The private terraces of the Berrua campsite's rental accommodation offer large surfaces and are equipped with full garden furniture: thanks to them, you can enjoy the joys of holidays in the open air while benefiting from the comfort and modern equipment of the rental accommodation.
If you are looking for a mobile home rental in the Basque Country, choose the 4-star Berrua campsite in Bidart!
Discover our camping pitches in the Basque Country