ANIMATION AND SPORTS ACTIVITIES AT THE BASQUE COUNTRY CAMPSITE
During your holidays in our campsite on the Basque Coast, in July and August, come enjoy the family entertainment on the Place Berrua.
Sports activities at the Basque campsite
Choose our campsite Berrua for your holidays in the Basque Country, it is the guarantee to enjoy a high-end campsite and that will delight the whole family.
To please all ages, we organize many sports activities within our campsite.
Thus, in our campsite in the Basque Country, you will have the opportunity to do: jogging, water aerobics, football, Basque pelota, petanque, tennis, volleyball …
Whatever your desires, you will find the sports activity that suits you best and where you can meet all holidaymakers.
In a friendly atmosphere, we also organize sports tournaments that will appeal to young and old alike.
To keep busy during your stay and discover new activities, do not hesitate to subscribe to our various activities. Good humor and friendliness are the watchwords of the spirit of our 4-star campsite in Bidart.
Animations for the little ones
In order to satisfy everyone, we offer activities adapted to all ages. If you go with your family, you will be able to offer your children animations adapted to their age.
For the little ones, we propose adapted activities for the 4 to 12 years in our Kid's Club: painting, songs, coloring, modeling clay, treasure hunting, water games … For the older ones, many sporting activities and tournaments are organized at the Club Ado.
They will be able to have fun with children of their age and spend unforgettable holidays in the heart of the Basque Country.
For your serenity, our teams of supervisors are perfectly qualified and ensure the safety of your children at all times.
A Club for Teenagers In Our Campsite in Bidart
The Domaine Berrua adapts to all publics! That's why we have a teenagers' club supervised by a counsellor. It is a meeting point for young holidaymakers aged between 13 and 18 years old. Your teenagers will leave the campsite with a lot of memories and new friends. On the program: knowledge games, water games, outings outside the campsite (Biarritz, beach…)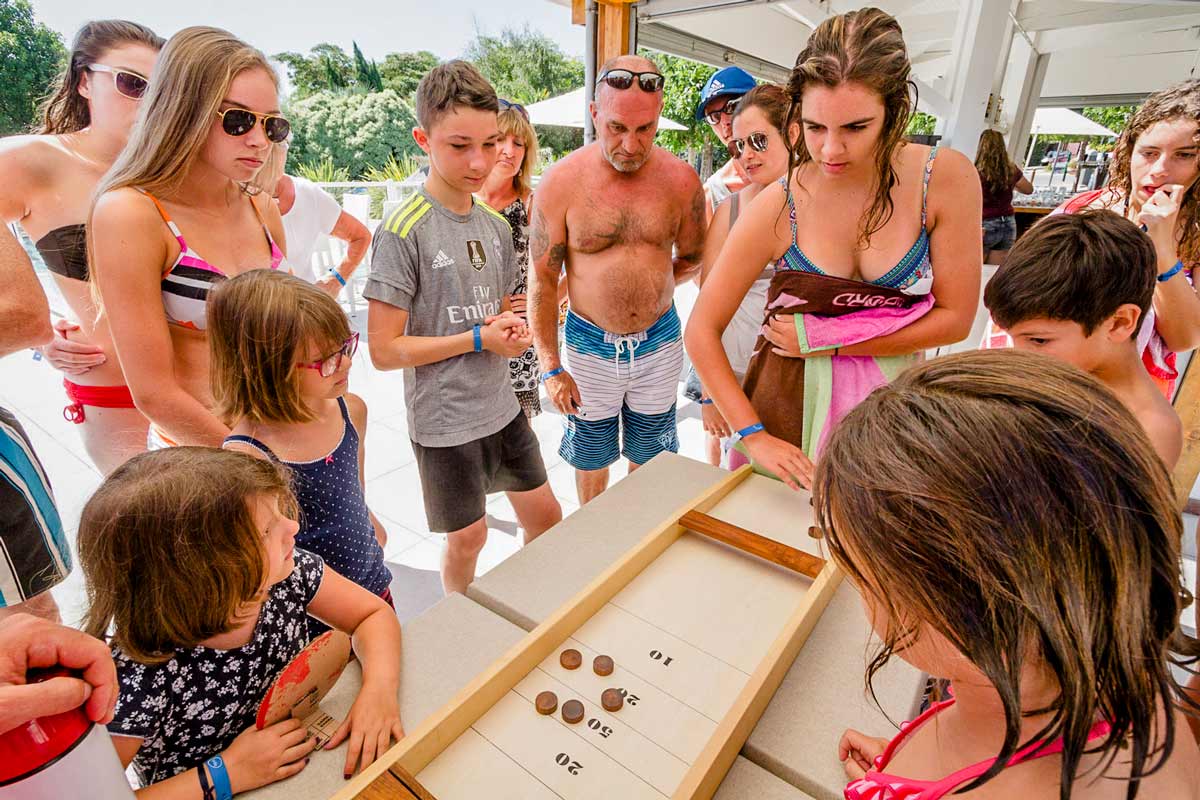 Evenings at the campsite in the Basque Country
At Domaine Berrua in Bidart, you are sure to spend an unforgettable holiday where you will not be bored. In order to entertain you and to occupy everyone, we organize many activities and animations within our campsite.
For your evenings, entertainment is planned during your stay to make you spend magical moments in a friendly atmosphere.
During your stay, several themed evenings will be offered: disco, flamenco, Basque dances, Basque strength.
In addition to the various cultural evenings, you can also participate in the lotto nights and the cabaret Club Child.
For an unforgettable holiday in the heart of an exceptional natural setting and lively evenings, do not hesitate to come to our campsite in the Basque Country.
With family or friends, you are assured of a pleasant stay and where you will enjoy a friendly atmosphere with all holidaymakers.
The services and the swimming pool of the campsite